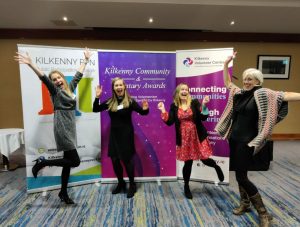 On behalf of Kilkenny PPN and Kilkenny Volunteer Centre, we would like to express are thanks and gratitude to all those our volunteers and community organisations, groups and individuals who continue to work so tirelessly, with so much effort and resilience especially in what has been a very challenging time for the Community sector and the country as a whole.
Thank you especially to all those who put forward nominations for this years Community and Voluntary Awards 2021.
Check out the video which went live via our facebook page on the 14th of Devember 2021. See the link here: https://www.youtube.com/watch?v=PzW1UnNHULg
We would also like to take the opportunity to thank our wonderful sponsors for their support and recognition of the importance of community work and volunteerism. Please note our sponsors below and are nominees under each category.
We would like to thank Eimear Ní Bhraonaín from KCLR96FM who was our amazing MC on the night and who on a daily basis highlights the immeasurable work of our communities and people who make up our communities. 
To thank our dignitaries- Minister of State Malcolm Noonan, TD; Cathaoirleach Fidelis Doherty and Mayor Andrew McGuinness; for their time, contributions and support for the voluntary and community sector.
We would like to thank Kilkenny Local Authority and the Department for Rural and Community Development for their support and funding. 
To our wonderful colleagues in Kilkenny Volunteer Centre, Salena and Paula who are so committed to the work of our volunteers and community. We had great fun along the way and met with such wonderful people. 
And a final very BIG thank you to Kevin Barcoe, our videographer, who put so much time, energy and effort into making this possible.
Remember, keep flying the flag for community.
Mags and Bortha