What is a PPN?
The Kilkenny Public Participation Network (PPN) is the new structure and platform on which the local community can engage with the Kilkenny County Council. It forms the link between the Voluntary & Community, Social Inclusion and Environmental sectors and the local governing body.
Established in 2014 through the Local Government Reform Act 2014, the PPN ensures that the public can have their say on local government decisions.
Watch a Video Explanation
How does a PPN Work?
The PPN has a " flat structure" not a hierarchical one meaning there is no one leader making final decisions but instead each group represented has an equal voice and opportunity to make decisions and to be heard and they do this during the Plenary meetings.
Representatives are elected by PPN members to sit on committees and are supported by linkage or working groups to carry out their roles.
Plenary
Plenary, meaning all member groups together. This is the main decision making body of the PPN. A plenary meeting is convened twice a year to discuss issues and vote on policies and procedures. Each member group has one vote at a plenary.
Secretariat
The Secretariat are the administration group of the PPN overseeing the running of it. The secretariat consists of about 10 members which are independent of the county council and are elected by the PPN.
PPN Representatives
PPN Representatives are elected by the PPN members on to a particular Board or Committee to represent the issues of that group. The PPN Representatives are guided and supported by their linkage group.
Linkage Groups
Linkage groups or working groups, form around a particular issue to support the representative in their role on a committee.
Co-Ordinator
The Co-Ordinator is the administrator of the PPN and is responsible for the development of the PPN . He/she is directed by the secretariat.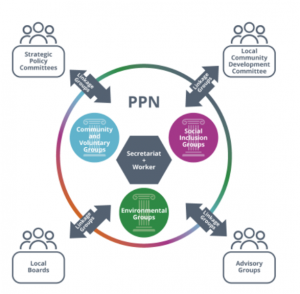 How do I join a PPN?
Membership of the PPN is open to ALL community & voluntary groups within Kilkenny which meet the following criteria:
Have a written constitution, operating rules & Procedures, and/or a memorandum of understanding & articles of association.
Be in existence for at least 6 months.
Be active in County Kilkenny.
Be open to new members.
Be broadly representative of and accountable to its membership base within County Kilkenny.
Have a formal structure e.g. Chairperson, Secretary, or Equivalent.
Be non-party political, non-sectarian, and non-discriminatory.
Hold an AGM and have regular meetings.
Examples of the types of Groups
Residents Associations
Tidy towns
Family Resource Centres
Sports clubs/groups
Youth Groups
Environmental Groups
Single-based issue groups