UPDATE: The booking a Mooncoin Hall has been cancelled in favor of meeting groups living very close to the Curraghmartin Solar Farm, and in particular the village of Carrigeen, with direct invites to the community groups there.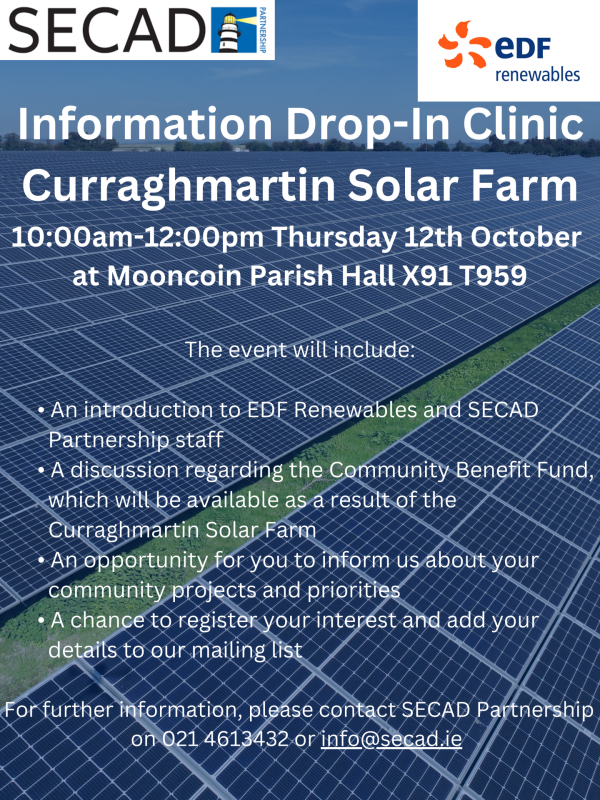 SECAD Partnership CLG are inviting you to an information event in regard to the Curraghmartin Solar Farm.
An informal meet and greet will take place on your arrival.
The event will include:
An introduction to EDF Renewables and SECAD Partnership staff

A discussion regarding the Community Benefit Fund which will be available as a result of the Curraghmartin Solar Farm
An opportunity for you to inform us about your community projects and priorities
A chance to register your interest and add your details to our mailing list
If there are community groups in your area and within approximately 5km of the Curraghmartin Solar Farm, please also feel free to extend them an invitation.
If you would like to access information relating to SECAD Partnership and EDF Renewables prior to the event, please visit these websites:
https://www.edf-re.ie/our-sites/curraghmartin/
https://www.secad.ie/managing-community-benefit-funds/
For further information, please contact SECAD Partnership on 021 4613432 or